Spirit of the Blitz – Liverpool in the Second World War
Merseyside Maritime Museum, Albert Dock
Open until 5th December 2004
Reviewed by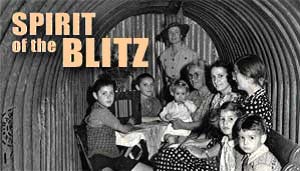 Sirens wail and the sound of distant bombs shakes the ground. Four generations of a family huddle in an Anderson Shelter. Yes, it's a half term afternoon at the Maritime Museum in 2004.
Older generations balance mesmerised grandchildren and great-grandchildren on their knees, glad of the opportunity to talk about the war to a receptive audience. Parents look on, delighted by the diversion.
This exhibition provides an entertaining and educational insight into the lives of Liverpudlians during World War Two, in combining revealing testimonies with interactive elements. As a major port, Liverpool was singled-out special attention by the Luftwaffe, and it came under heavy bombardment during 1941. Albert the ARP Warden gives a short presentation three times a day, transporting the viewer back in time to raids on Duke Street and Park Road. He manages to hold short attention spans by involving the audience, and conveys some sense of the problems faced by ordinary people in extraordinary circumstances.
Children aged about six and upwards seemed to get a lot from the experience – and reacted with a mixture of horror and fascination. One young visitor wrote 'let's hope that there is no other wars' in the comments book. The trip was well worth it then.