SeaWitches Take Aim with Spacegun: SeaWitches Interview
Mainstays of the city's gig circuit, female fronted art rock quartet SeaWitches, have recently released impressive debut EP Spacegun. Nerve met up with them for an interview.
By 11/3/2013
Firm fixtures on the city's gig circuit over the past two years, have recently unveiled their debut EP Spacegun, a collection of brittle art rock inspired by the post-punk/new wave era.
A meeting called to discuss the record in MelloMello turns out to be an apt location, considering the band have logged several performances under the Free Rock and Roll banner on the venue's stage and recorded the tracks in the studio downstairs.
Centred around the nucleus of Jo Herring and Laura Caldwell, the band's moniker, 'Like Neptune in female form' according to Jo, arrived after an alcohol inspired brainstorming session. 'We knew we needed a name, we just had a few drinks one night and were writing loads of names down, drunk. I woke up the next morning and had 'SeaWitches' written on my hand.' Laura explains.
Meeting via mutual friends, although the pair were kindred spirits when it came to songwriting, Jo and Laura were reticent to let any product out into the world until they were entirely satisfied. 'We were just in our bedrooms for quite a while writing loads of songs learning how to play. We didn't play any gigs for the first year or so, we literally couldn't play anything properly!' Jo laughs. 'We were just learning.'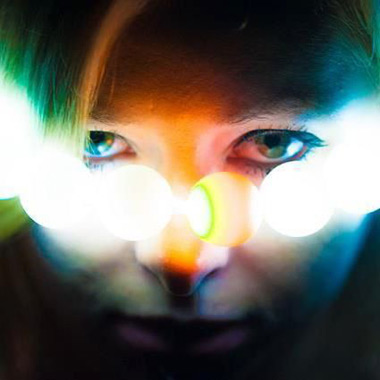 'I was quite late coming to music. It wasn't until after university that I thought it was something I could do' Jo continues. 'I didn't think I had any musical ambitions, it never crossed my mind, when I was at school there were no girls I knew in bands.' Jo's arrival in Liverpool to study at John Moores led to a sea-change in her perspective however. 'Going to see bands like Pop Levi and the Emergencies and Zukanican just made me think 'I could do that''.
Despite the group featuring 'a revolving door of drummers' over the years Laura laughs, the ensemble's many showings on the city's venue listings has sharpened their sound.
Running the gamut of late 70s/early 80s touchstones, the four tracks on Spacegun solder together the shadowy guitar lines of The Cure and Joy Division, with heavily reverbed vocals reminiscent of Siouxsie Sioux.
Recorded in the subterranean studios of MelloMello, 'a basement decorated like Egypt on Mars' according to the band, the disc audaciously opens with the sprawling title track. 'Some of the newer songs, the more peculiar epic-sounding ones come out of jams' Jo says of the track, the longest cut in their compact catalogue, a suite-like mini-epic that clocks in just shy of nine minutes.
Specialising in intriguing song titles, 'I Feel Bait', 'Another Clown Fight', the songs' fragmentary verses only make sense when pieced together as a complete whole. 'Some of the song lyrics are quite abstract, like trying to understand a dream, so they mean certain things to you' Laura nods.
The strongest track of the collection 'Another Clown Fight' which marries a Tina Weymouth inspired bassline to an African influenced highlife guitar melody to dazzling effect points up another treasured influence, Fela Kuti.
Sharing guitar, bass and vocal duties between them live, recently arrived guitarist Sophie Ellison became part of the group via an offer of recording their tracks. Sophie's arrival proved fortuitous, as with the debut EP done and dusted, the group have set about recording their first LP, currently pencilled in for a summer release.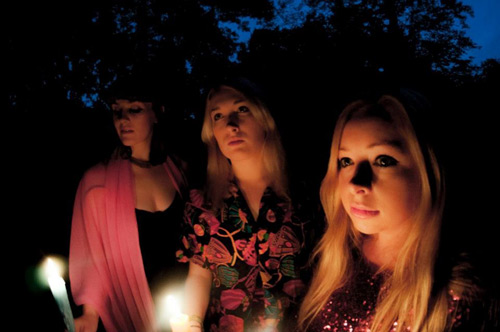 Due to the band's extensive song-writing sessions, songs are in abundance for the as yet-untitled debut long player, with scores of tracks compiled over several years already complete.
'We've got a whole back catalogue of stuff that we're getting down at the minute' Jo explains. 'We've got about forty songs or more, for such a long time we've focused on writing and getting better at playing and gigging.' 'We play quite intuitively and we go off each other a lot and so breaking everything down into sections has been quite a tough learning curve' Laura adds.
The intense work-shopping and time spent has clearly been worthwhile as the EP which acts as a starter prior to the main course of the album more than sates the appetite.
Spacegun is out now.
Listen to the SeaWitches at: