11/1/2007
Interview with Ramsey Campbell
Ramsey Campbell is perhaps the finest British advocate of weird fiction and one of the most celebrated horror writers of his generation, receiving more awards than any other author of that genre.
Ramsey was born in Liverpool in 1946, and still lives on Merseyside with his wife and two children. He sold his first story, 'The Church in High Street' in 1962 and left school in the same year. His first collection, 'The Inhabitant of the Lake and Less Welcome Tenants' was published by Arkham House two years later. In the years that followed, Campbell worked for the Inland Revenue and then at a library before becoming a fulltime writer in 1973. His early fiction was heavily influenced by H. P. Lovecraft but subsequent works saw Campbell distance himself from this, becoming a unique and powerful voice in horror fiction. Much of it is set on Merseyside.
Is storytelling something you have always done or did it come to you in later life?
I began writing stories when I was no older than seven. They were terrible stories but I was doing it none the less. By the time I got to eleven I was working on a book of short stories entitled 'Ghostly Tales'. It was all handwritten, illustrated in crayon and presented in a small exercise book. I sent the solitary copy off to numerous publishers. They were sent back as you can imagine, but I did get a promising letter from Tom Boardman Junior, one of the only people publishing science fiction in hardcover. The letter basically said: 'We don't publish ghost stories, but this is a promising start.'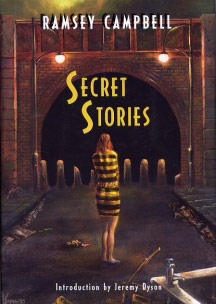 Was receiving that letter at such a young age a life-changing experience?
It was certainly a spur as it was the first one but I think my life changed as a result of the response I received for my Lovecraft imitation work later on. It was after discovering the Lovecraft book 'Cry Horror' that I realized exactly what I wanted to do, and I was hugely lucky to get an editor's input in my mid-teens, from August Derleth.
Is storytelling something that ran in your family? Did your parents tell you stories when you were growing up?
Yes to an extent to the first question. Fundamentally, my parents fell out disastrously when I was very young, no older than three or four, but continued to live together in separate parts of a very small house in Wavertree. After my parents became estranged, I lived with my mother; my father was out of the picture. My early memories of him are as no more than a voice behind a door. I could still here him coming and going from the other room. For nearly twenty years we didn't meet face to face, although he continued to live in the house.
My mother often told me stories, enormous amounts about her childhood. She would also read to me but by the age of 2 I could read myself, I was pretty damn precocious. She also wrote a great deal, novel after novel, but was largely unpublished aside from a handful of short stories in writer's magazines. She encouraged me to send off my stuff from an early age and is part of the reason I began writing all those years ago.
Do you reject the label of horror writer now that you have done a lot of other work?
I would not reject the label 'horror writer' despite having done radio and editing work. It is a great literary form with a great history. I am still trying to do my part to keep it alive, and I always say I write horror – too many writers claim not to even if they do.
Was winning a Bram Stoker Award a career highlight for you?
It was certainly one of them along with another life time achievement award I received at Masters of Horror convention. I also received an award recently in Oregon, a statue of a dapper-looking Lovecraft. In all honesty, when I complete a new first draft I am often concerned about the quality of the piece compared to my past stuff, so it is always nice to receive an award so you know you are doing something right.
When you submit a final draft are you always happy with the end result?
I am generally happy with a piece once it has been rewritten. One of the crucial things I learned early on is to enjoy the rewrite. The rewrite is the most enjoyable part for me when I find additional things to add and improve what I have in front of me. Only when I feel reasonably happy with the rewritten piece do I send it out for publication.
I read that you are known for discovering Clive Barker before anyone else. How did this come about?
It wasn't exactly discovering because Clive had been working around London as a play writer long before I came across him. Discovered is quite a strong term, our paths crossed a number of times in Liverpool at cinemas and various parties. He would ask me if I knew of any markets for short horror stories and eventually asked me to look over a soon-to-be published manuscript and the contract he had been offered for it. My jaw dropped when I looked over the manuscript – it turned out to be the 'Books of Blood', and I wrote the introduction to the first edition. I also introduced his work to Peter Straub and Stephen King whose initial reactions were similar to my own.
There were rumors that Guillermo Del Toro wanted to adapt one of your works. Was there any truth in this?
He wanted to adapt my short story 'Down There'. It was going to be part of a nominal film sequence of four short films in the vein of the Twilight Zone Movie. Guillermo had completed sketches of the monsters in the story and written a script but sadly New Line Cinema pulled the plug on the project. These things happen, that's Hollywood.
If there was going to be a big-budget production of one of your novels who would ideally direct the project?
That man Del Toro would be a fine choice but my absolute dream-ticket would be David Lynch. Then there's the question of which book would it be? I wouldn't mind seeing 'Needing Ghosts'. Of all the filmmakers working at the moment, Lynch is the one who can convey a real sense of utter dread – the first section of 'Lost Highway' is absolutely terrifying.
Would you ever consider directing one of your own pieces as Clive Barker has done in the past?
I don't know enough about it to tell the truth. Clive had prior experience in theatre before he went into film but I wouldn't know the first thing about directing other people. Even writing a screenplay would be something new, I'm not saying I would never do it, it is even less certain than book publishing these days but if somebody offered me enough money to do it I guess I would give it a try.
Which of your work is most personal to you?
Well, there are various in different ways. 'The Face That Must Die' in a way is quite largely about my mother - there is a lot of her in the central character. Many of the stories I wrote in the late 80s were about the fears I had about whether I could raise my kids well. Luckily they have grown up enormously well but you do have these concerns as a parent. Although the protagonist in my latest book, 'Secret Stories' is an unpublished writer who is encouraged by his mother, these similarities to myself are merely coincidental.
As a horror author it must be difficult for other people to scare you. Is there anyone who has achieved this recently?
Yes there is, funny you should ask me that; I wish there were more. The only work that has actually given me nightmares sometime later is Stephen King's 'Cell'. It is a very intense, apocalyptic work with emotionally engaging characters. The protracted nightmare I had saw the novel's post-apocalyptic chaos break out in Liverpool, with the Albert Dock acting as the only safe haven for the city's few survivors.
Finally, can you tell a bit about your work with Radio Merseyside?
I have been doing film reviews since 1969 and have hopped from show to show. You can currently hear me on the Friday edition of "Breakfast", and less frequently on Claire Hamilton's Sunday show. There's a longer version of these reviews on the Radio Merseyside web site, where I also review DVDs.
Read Ramsey's reviews for Radio Merseyside here:
Ramsey Campbell's website:
Comment left by Carolyn Tisdale on 15th January, 2007 at 8:59
At last some great info on a great author, Many thanks.
Comment left by Ruth Barringham on 16th January, 2007 at 5:24
I love Ramsay Campbell and one of my favourite books of his is "The Face That Must Die". To find out he based the main character on his mother is disturbing but fascinating. A great interview.
Comment left by johno on 27th January, 2007 at 10:19
in psychoanalytic terms would you describe this writing as anal or like a gift of poo to the parent a way of appeasing malevolent tyrannical peers monsters if you will.. ergo the rise of abnti authority characters horror genre..simple when you know how..tapping into parent hostility and guilt feelings brought on because of it. the depressing news is its avicious circle..recreating itself continuously as the next generation blames the problems of tody on the generation of the past..the wheel turns full circle shit eats the fans..
Comment left by Carol on 9th November, 2007 at 8:36
I love that last pic - that's one of the monsters from 'The Influence' isn't it? Johnno, what a nonsensical comment XD
Comment left by albie on 16th July, 2010 at 12:56
Ramsey should work for the government as a spin doctor...he makes urban decay seem almost beautiful.