15/12/2014
Interview with Liverpool alternative pop polymath Esa Shields
Liverpool alternative pop polymath Esa Shields recently issued an excellent debut LP Ovum Caper through underground vinyl only German label Gagarin Records. from Nerve met up with him for an interview.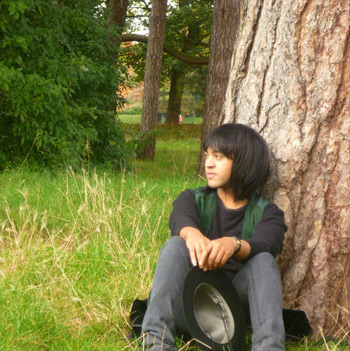 'I see them as pop songs' Esa Shields nods, studying the track listing of excellent debut LP Ovum Caper. An eclectic essaying of sunburnt acid-pop, mutant cabaret rock and whimsical folk, the album is indeed pop but showcases it pushed out to almost avant garde realms, skewed but tuneful, discordant but melodic.
Long part of the city's musical underground, aside from a clutch of gigs each year and a scant online presence through recently established Soundcloud and Bandcamp pages and with no social media profiles to speak of, Esa's music has sometimes been so subterranean discovery of it necessitated the kind of excavation equipment utilized in Journey to the Centre of the Earth.
The sterling debut platter, a series of upcoming gigs and several follow ups albums already in the works should justifiably see the alt. pop polymath's profile increase exponentially.
'It took a while, not necessarily to do the songs but to get it all together and mixed and build interest in it too' Esa explains of the album's lengthy gestation, sat in his Princes Park flat surrounded what looks to be the entire contents of several record shops stacked neatly around the living room. 'There were loads more songs that were meant to be on it that were rejected. This is my first release, it was meant to be released in 2008 and it just didn't, just didn't happen. Then I recorded another couple of albums but deleted one of them, scrapped the other and I've just been finishing another one. Really this should be the fourth one the LP I'm finishing now, but officially it'll be the second' the songwriter explains.
Wrapped in a pink and white cardboard sleeve adorned with pen and ink drawings of kinkily-attired figures, the oddball pop of Ovum Caper's opening cut 'Monde Capricorn' clearly maps out what follows, swelling Casio keyboard textures, spiky guitar line and Esa's androgynous vocals.
As the plethora of two word titles proves, ('Ovum Caper', 'Monde Capricorn' 'Crayon Gurn', 'Jenkins Other', 'Finally Dmitri') the juxtaposition of opposites holds particular appeal. 'It's almost (US comedian) Andy Kaufman-esque, it's only amusing to me personally, the combination of words' Esa explains. ''Monde Capricorn' is from that Van Dyke Parks' (Brian Wilson's wordsmith) school of thought were the lyrics don't necessarily have to mean an actual thing but they create an image that's appealing to you, I think that can go for a few of the songs. They're basically combinations of words and little scenes that I've conjured up in my head of some of the absurdities of life'.
One of the LPs highlights 'Shelley Duvall' is an offbeat paean to the now retired American actress, best remembered for her role as the terrified heroine of Stanley Kubrick's The Shining. 'I remember watching The Shining and at the time feeling really sorry for her, so I wrote a song about her!' Esa explains. 'Initially it's about her as a character instead of her as a person, I thought it'd be more interesting using her proper name'. The pretty but wayward 'Crayon Gurn' meanwhile concerns hypocrisy. 'It used to tickle me, some people's attitudes and beliefs contradict themselves, I used to try and let it affect me, so I used to see as them as sort of cartoon characters' the singer says.
'Lost Time' combining Commodore 64-booting up noise with a shadowy reverbed backdrop somehow ends up sounding like a one-off 1960s girl group classic, aided by the beautiful harp accompaniment that runs throughout provided by BBC Radio Merseyside stalwart Stan Ambrose.
'Finally Dmitri' meanwhile is named after the engineer who owned the studio the track was recorded in and came about as a private joke over how long the session took to arrange.
Pieced together from various recording sessions, the oldest track on the collection, 'Jenkins Other' dates from 2004. 'Most of the songs date from 2005 and 2007, that's when the bulk of it was recorded. I try to keep the albums in a timeline, once I've started it' Esa explains of the way the songs form an ongoing narrative for him. 'Anything from a different time, nobody else will know, but I know it doesn't make sense to the rest of the album'.
The eclecticism of the album, zig-zagging across a multitude of genres pairing sometimes disparate sounds together was entirely deliberate. 'Initially I wanted an album of songs that all sounded completely different from each other and completely genre-less, but honest. Songs that you've recorded without thinking about an audience or just a flow of ideas, which is basically how I work' Esa states.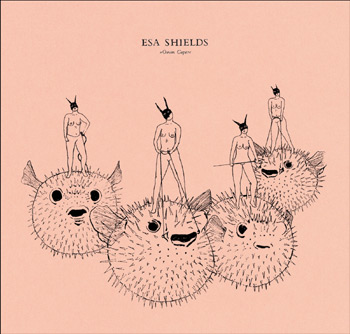 'Some of the songs are craft, some if I haven't got any ideas I just improvise and I'll be lucky and a song comes out of that as well' the singer says of the writing process. The question of how much of LPs lyrics are autobiographical meanwhile is down to the listener to discern. 'There's some cryptic things going on in there' Esa nods. 'I've always been frightened of being literal and people knowing about a certain part of your life. Some are sad songs, there's the odd break-up one, but you won't be able to tell'.
Starting out in 2002 with bedroom recordings captured on a cassette 4-Track ('All of that's stuff's still around somewhere') following a lengthy tenure in the currently ascendant Seawitches and a stint in the prosaically named Krautrock (who played instrumentals of Krautrock tracks), the singer settled on a solo path. With almost 100 per cent of the material on the LP self-played, much of the recording process went the same way. Eschewing laptops and computers generally, half of the recording was undertaken on a monolithic early 2000s Akai digital 12-track that seemingly takes up an entire corner of the front room. Backed up byMiniDisc in case of any accidental loss of material, the lo-tech DIY feel of the recordings share the same impromptu atmosphere of live versions.
A possible reason for the songs once-only quality may be the singer's method of battling a recurrent problem that many afflicts musicians and writers; having flashes of inspiration at completely inconvenient times, most typically before falling asleep. 'I did that thing the other night were I lost a song' Esa states shaking his head. 'I was tired and I went to bed, when I was making one up so if I don't get up and hum it into the recorder or play it on the keyboard it's gone'. Citing Beach Boys, Nirvana, and Delia Derbyshire-era BBC Radiophonic Workshop as formative inspirations.
Esa's influences reach far beyond the stock list of bands around in the previous decade to the present. Alongside Swedish chanteuse Stina Nordenstam and Velvet Underground muse/co-lead singer Nico as principal vocalist influences, a fascination with film soundtracks began at an early age. 'John Carpenter, I've liked him since I was a kid' the singer says of the figure who made the biggest initial impact on him, the deep synth lines of the horror maestros late 1970s/1980s classics a notable presence in offbeat folk tune 'Woods and Gullies'.
'I loved Halloween, The Fog, Prince of Darkness, I saw that when I was six and it terrified me!' Esa laughs. 'I always wanted those soundtracks then I was ten or eleven, but they weren't available then. Carpenter was always surprised that people wanted to hear the soundtrack isolated from the film'.
In addition to Carpenter's work and modern classical/minimalist composer Arvo Pärt, a rich seam of work by Cold War-era directors largely unexplored in the UK have become major inspirations. 'I'm really into the Czech New Wave from the 1970s' Esa states. 'I discovered them in 2007 through a film called Daisies along with Valerie and Her Week of Wonders (a major influence on shoegazers Broadcast) and Malá Morská Víla (The Little Mermaid). I hadn't heard of them to be honest 'til then, bit by bit I've been picking them up since, when (specialist label) Finders Keepers reissues them. It snowballed after that, anything to do with Czech cinema after that I tried to get the soundtracks to. Some of them I didn't even necessarily hear, I just went out and got it'.
While many of the films mentioned made the transition to DVD, the advent of specialist reissue record labels meant the OSTs became far easier to source than having to rely on elusive as well as highly expensive foreign imports. 'It's a really good time for reissued LPs' Esa enthuses. 'Brigitte Fontaine (French avant garde composer) I've been looking for her stuff since I was eighteen and I only just got it this year from Probe, fifteen years I was looking for this!' he grins holding up a newly minted copy.
Opting for hard-hitting US psych-proggists Wooden Shjips and Moon Duo as more recent listening matter, the singer admits he doesn't feel pressure to keep up with fashions. 'I've got blinkers on' he shrugs. 'I tend to get albums late as well, I don't get in with the times, I discover it two years after its come out so I don't get caught up in any fever or anything like that! Influences are always subliminal' the singer adds. 'I'm never thinking of someone else when I'm writing, it's not dangling from a magpie's beak, if it sounds like anything else it's accidental'. Issued through German underground vinyl-only label Gagarin Records, the journey to getting Ovum Caper released was far from straightforward. 'A mutual friend passed my stuff to the label as far back as 2004 and they expressed an interest on and off' Esa recalls. 'Then I friend of mine from France mentioned me to them and they said 'Yeah, we know him we're going to release it', which is how it all got started'.
For upcoming shows the songwriter is currently engaged in putting a band together to fully realise the songs live ('I reckon I'd need eight musicians' he smiles) a significant departure from the singer's usual solo appearances. 'I'm trying to be brave and play some solo keyboard songs in the set from now on' Esa explains.
'I've had a few disappointments with bands. I had a band called Sybil named after a book (by US journalist Flora Rheta Schreiber) about a woman who had sixteen different personalities, I thought that was a good title for the band, 'cos we were a weird combination of people, but after the disappointment of that falling apart I said to myself 'I'm not doing a band again''.
With the debut LP done and dusted and finally out of his system, the feeling that the singer's future moves will be far easier with this first hurdle vaulted over is almost tangible. Indeed, the next set is already in the can it seems. 'I'd like to release it in the spring, I'd like to do an LP a year' Esa says of the next step.
With the first installment serving notice of a truly idiosyncratic talent, the ensuing chapters look set to be as equally intriguing.


Ovum Caper is available now from Gagarin Records