Fireweed* - Perce-neige
By - February 2015
Photographs by Geoff Edwards
By banishing leaves, winter reveals line and structure; in creating decay and cold temperatures it brings cultivated grass into prominence. The eye is struck by the fresh brightness of green in gardens and in public spaces, which contrasts so strongly with the brown of decay and the relative rarity of floral colour. Why does the eye appreciate these areas of green? They are a symbol of endurance: the green, green grass of home lasts all through the deadness of winter and then torments us with its profligacy during the lawn-mowing days, when it becomes our unruly outdoor carpet. The colour green has important qualities; surveys have indicated that it is the colour most associated with agreeableness, neutrality and tolerance. It is the colour worn in operating theatres because it neutralises the red of the blood and exposed flesh. It is also the colour of springtime renewal and youth and hope, adopted by political parties emphasising environmental issues.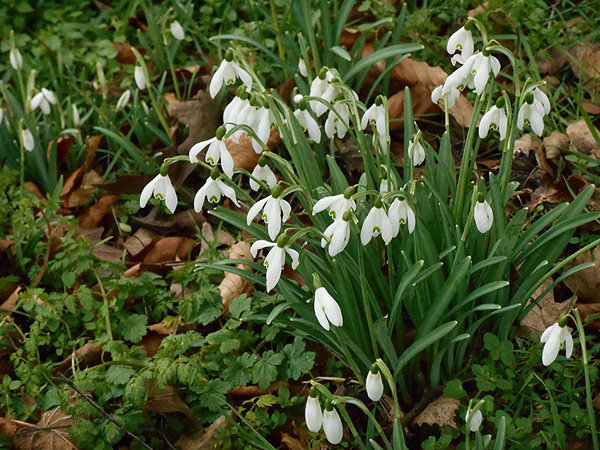 The first bulb of spring is the snowdrop, showing in gardens and drifting in public spaces from January onwards. I have always thought of it as a winter-flowering bulb, as its name suggests. The French call it perce-neige: snow driller, a much more dynamic name, stressing the action of piercing the cold snow-covered ground. It's a valiant survivor and pioneer; soldiers fighting in the Crimean War brought it back to their gardens. The English name concentrates on its colour and shape, its habit of dropping the head like the hellebore does, as if to withstand bad weather. This plant has a robust fragility: the flower looks like the whitest porcelain but the neck is delicate and the stem and leaves are thin. It is poisonous to humans though its medicinal qualities are significant. The common snowdrop contains an alkaloid, galanthamine, that has been accepted for use in the management of Alzheimer's disease and there is some possibility that snowdrop lectin could be helpful in the treatment of HIV.
But the poetic symbolism of this January flower probably has the most potency. It is a living bell of snow, ringing in the spring which is not yet here. It coexists with autumn's dead leaves, creating a promise of awakening life. It has the unsullied whiteness we associate with chaste renewal.
To read other Fireweed columns
*Also known as Rose Bay Willow Herb, the prolific wild flower called Fireweed, five feet tall with spikes of magenta flowers, cheers the hearts of those whose cityscape has become a bomb site or whose buildings have been cleared by machine. The dormant seeds spring to life after destructive events such as forest or man-made fires, hence the name, Fireweed. This occasional column will celebrate the persistence of wildlife in urban conditions.