Fireweed* - Glorious Sadness
By - 21st November 2014
Photographs by Geoff Edwards
Autumn is gloriously sad. This year summer has lingered into its frost free weather. Summer plants like sweet lavender and spicy nasturtiums coexist with autumn- and winter-flowering characters such as sorbet-yellow mahonia, with its serrated martial leaves, and fatsia, whose delicate white efflorescence looks like miniature fireworks. We also have winter's show-off berries. This season, the honeysuckle fruits are lush and plentiful, slightly waxen, like glace cherries and so dramatic against the blue-green ivy leaves. In the same way, the glorious pinks, reds, oranges and deep reds of Virginia creeper vibrate with desperate glory alongside the more sedate evergreens. The autumn swansong, be it early or late, signals the winter period of living things dying back, hibernating, bowing their heads against the wet and the cold. And there is a sadness blowing about in the wind-caught leaves and the shortening days whose length we desperately supplement with pumpkin lanterns, bonfires and fireworks.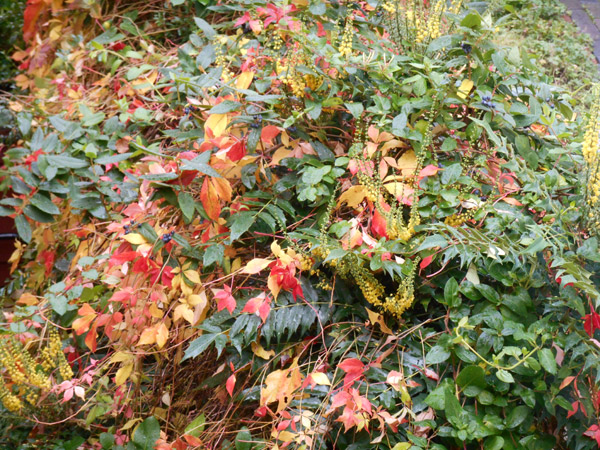 There is a sense in which this whole year has been held by the autumnal, elegiac resonances of Armistice Day 1918, which terminated a terrible war, associated in our minds with that flower of summer, the poppy, blooming beautifully and briefly, amongst the disturbed earth of Northern France. In his BBC 2 programme: The Great War - an Elegy, poet Simon Armitage referred to a soldier, Joseph Shaddick, who had stretched out his hand to pick this "little snatch of life" to send home. This poppy still exists in war archives, drained like a corpse of its brightness, showing its veins, and poignant in its two-dimensional fragility. It's a moving idea that the flower carried with it the terroir of the war zone, the touch of a soldier's hand and that of the anxious recipient, as yet unaware of the potency the poppy would achieve after the hostilities.
And what a powerful metaphor for the price of power artist Paul Cummins provided with his installation, The Blood Swept Lands and Seas of Red. 888,246 ceramic poppies have been placed -one for each British and Commonwealth combatant dead - the red flow of the flowers juxtaposed with the grey stones of the Tower of London. This was and is the cost of supporting the staunch walls of establishment power.
As Big Ben chimed its eleventh strike on November 11th 2014, and a poetic leaf fell on the silence, I was struck by the irony of the BBC's caption: "Live from the Tower of London".
To read other Fireweed columns
*Also known as Rose Bay Willow Herb, the prolific wild flower called Fireweed, five feet tall with spikes of magenta flowers, cheers the hearts of those whose cityscape has become a bomb site or whose buildings have been cleared by machine. The dormant seeds spring to life after destructive events such as forest or man-made fires, hence the name, Fireweed. This occasional column will celebrate the persistence of wildlife in urban conditions.
Comment left by Minnie Stacey on 21st November, 2014 at 18:22
Nature's fireworks inspire an elegy to the establishment's bloody power and my friend Sandra's writing inspires me to leave this comment. Thanks for another 'Fireweed' x (and to Geoff for photos x)